Felicia "The Poetess" Morris
FELICIA "THE POETESS" MORRIS - BY JEAN PERRY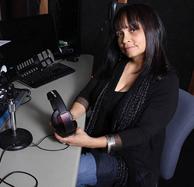 Felicia "The Poetess" Morris starts her day with a walk or sometimes a hike. Then she's off to Morris Media Studios, at 4309 Crenshaw Blvd., in Los Angeles to get organized for the shows of the day.
The studios are set up for podcast and audio production, voice-over projects, and live streaming to Facebook and YouTube.
"I do whatever is required," Morris says. "I clean, work on promotion and marketing programs, and prepare for workshops."
She also runs the studio's internet radio station. "I am trying to get away from engineering shows. Instead, I hire qualified engineers to do that part of the business. But if I need to engineer, I do."
Morris came to Los Angeles to be an entertainer. Radio producer Lee Bailey offered her a position. "I started in 1989. I have been in this business for thirty years. It's been a great journey. It doesn't always feel like it but in retrospect it does."
On entrepreneurship, she says: "Being an entrepreneur is not for everyone. You have to be strong and have passion, it's not easy. You might struggle financially and emotionally. At times it's a lonely place. People don't understand the time commitment we make and what is takes to build a professional, reputable place for your clients and customers. A lot of people like to create but when they join creativity, to having their own business, a lot more things come into the picture. Many creatives are not prepared to manage the business side of their art.
Fortunately, she had her father to mentor her. Morris made her radio debut at the age five, on KDIA-AM, a soul station in the San Francisco Bay Area where her father, Johnny Morris, was a popular disc jockey.
She believes that preparation is important. "I attended college but didn't go on to graduate and I regret that. I feel that a major in business administration or business management would have given me a broader picture, and prepared me for many things I had to learn on the spot. True, it can be done that way but I think a degree is a big help."
Morris Media Studios includes gated parking, lobby, conference room, full kitchen, and two bathrooms, one with a shower stall.
"We aim for high customer satisfaction at competitive rates." says founder and owner Felicia "The Poetess" Morris.