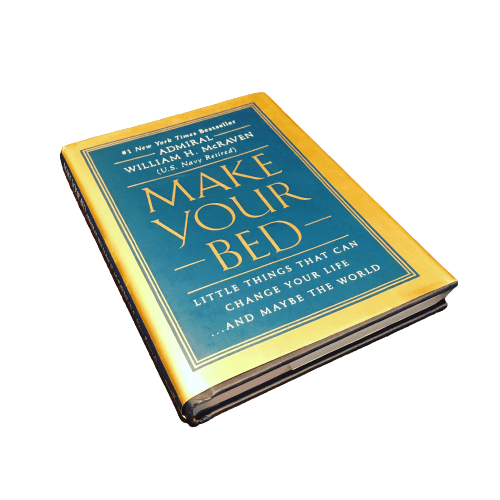 Book Review: MAKE YOUR BED BY Admiral William H. McRaven (U.S. Navy Retired)
By Jean Perry
Are we or are we not willing to trade in our habits for better ones? In one U.S. Navy Seal's class only 33 candidates, of the 150 who entered, graduated. The graduates either had or acquired those better habits that seemed simple but in combat, could determine whether they and their fellow Seals would live, or die.
If you were one of those trying out, your bed would examined every morning while you, as a new recruit, stood by it, to watch an officer check that requirements had been meant. Were the top and bottom sheets joined by hospital corners? Was the top wool blanket, tucked under the sheets tightly? Was the wool blanket tucked so tightly that a flipped quarter would bounce off it enough times so that it could be caught in the officer's hand? Was the second blanket folded in a perfect rectangle? Was the single pillow centered at the top of the bed and did it lie at a right angle with the blanket at the bottom?
Would you trust a soldier who couldn't make up their bed with the safety of our/your country? Those who couldn't perform this task were sent to the beach to roll around in the wet sand—until there was sand in every bodily crevice.
Why the attention to detail? Because those who overlooked the little things in training stood out, and were picked out to either improve or surrender (as in, get out of the corps).
These and other lessons are outlined in this short book of about 95 pages that may inspire you to judge your habits against those of the most disciplined; would you measure up, even a little? Only you can decide.
Grand Central Publishing 2017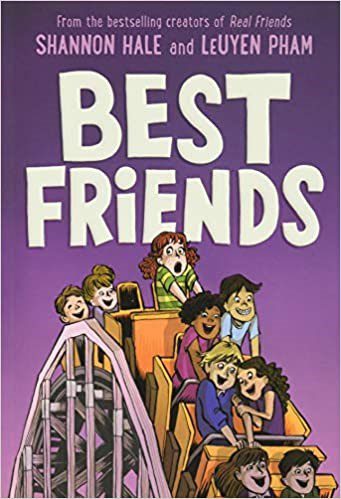 Book Review by Jean Perry
BEST FRIENDS
By SHANNON HALE and LeUYEN PHAM
Sugar and Spice and everything nice; that's what little girls are made of, goes the old refrain.
Not so in BEST FRIENDS BY SHANNON HALE and LeUYEN PHAM.
Shannon, the protagonist, finds herself and her best friends in a whirlwind of changing tastes, changing values, and brand new questions about what to look for when making friends.
Wondering if she's likeable, the lead character learns the songs her friends like, does the dances her friends do, and sometimes puts her friends' opinions before her own conscience. After all she's hanging out with the most popular girl in the school and her dedicated group. Miss Popularity will do anything to keep her fans happy, while Shannon is used to listening to her own feelings and following her own paths. Until now, because it's her last year in elementary school and she wants to enter middle school with a ready-made group of— totally popular pals.
A graphic novel, the illustrations by LeUyen Pham, with color by Hilary Sycamore, provides facial expressions that perfectly render portrayals of middle school emotions; from I love you you're the best to get out of my life, now.
Wisely, the authors don't make up the reader's mind for them in the various scenarios presented, but instead encourage critical thinking which some will welcome while others may be uncomfortable about open-ended choices. Perfect for middle school as growing up begins when you see the validity of choices others make, yet identify and follow your own path.
Take note, Best Friends is the second book in a series. The first book is titled: Real Friends.
Publisher: First Second 2019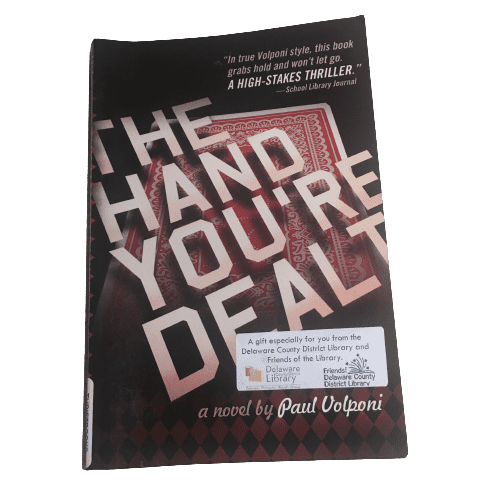 Book: THE HAND YOU'RE DEALT by Paul Volponi
Book Review by Jean Perry/ Instagram: eyesonmep
When a high school senior believes that his sadistic math teacher took the watch his father won in a church tournament, the quest to get the watch back begins. The story is set in a small town where church card games decide who gets to play in a bigger tournament in Las Vegas. The scenes take place in the boy's high school, at home with his hard-working widowed mom and in and out of classes with his many friends, all of whom are enjoying their senior year, except for that pre-calculus class with someone you will come to know and dislike while laughing at his cruelly funny remarks.
This is a fast read with dollops of humor that lighten the serious side of the drama. Sadistic teachers and poker addicts exist and they are nothing to laugh about.
Rounding out the action are a variety of teen and adult tournament players; the addicts ruled by a compulsion, the haters who play to get back at something or someone, and the money seekers locked on dollars. Lastly there is the protag, who plays mainly for the art of the game.
I enjoyed the read and was especially taken with the closing scenes where protagonist, antagonist, and the key players appear in a series of events that provide a satisfying conclusion without guns, bodies, or blood.
Now, I have one burning question, where my poker players at?
Anthem Books for Young Readers/Simon& Schuster 2010