Owner Of Michael Ferrera Custom Clothing - By Jean Perry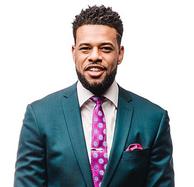 Bespoke menswear designer Michael Ferrera combines the precision of artificial intelligence with the tradition of hand sewing, to produce the custom men's suits and accessories he's known for.
Sometime soon he plans to introduce an artificial intelligence tool that will copy body measurements with an accuracy and speed not available before in tailoring.
"AI (artificial intelligence) for this procedure already exists," said Michael, "but I believe we have a superior product that may well be a game-changer." Already field-tested, he plans to license it to individuals and corporations in the fashion industry.
Yet with all his enthusiasm about generating another income stream through potential sales of his AI product, he is quick to underline that in the bespoke business, nothing can replace the human hand.
"There's only so much a computer can do," he said, "and I am grateful to be able to work with many fine and experienced tailors who are true craftsmen. One of my tailors has over forty-five years of experience."At his Hollywood showroom, clients begin the process of being measured and fitted for their one-of-a-kind garment.
"Some clients come to me from social media sites, but the majority come through a personal introduction; either from an event, we both attended, or through a referral from one of my customers."
The process looks like this: "We do a phone call to gage what they're looking for. I like to know what industry they're in, which tells me something about what garments would be appropriate for their work environment and the events they go to. Some want suits or tuxedoes, other want pieces –a jacket, a vest, to dress up or change their current wardrobe. Then they come into the showroom. I take fifty-five body images using cameras and computers programed to capture body type and accurate body measurements. Then we look at fabric, colors, and swatches; discuss lapel pins, buttonholes, and threads."
A garment takes about forty days to create. There is a try-on to see if alterations are needed. His journey as an entrepreneur began at age twelve when he became a disc jockey. "I started that business at twelve and sold it at twenty-six. I have never had a job working for someone else."
Married, he and his wife Ruth recently welcomed their first child. Parenthood changes things. "I'm a beginner at this," he laughed. "But one thing for certain, you will have to give up some sleep. Fortunately, my attitude is well, I'm up and awake now, so I may as well do some work. I know there will be challenges down the road but I'm thrilled to be married and to be a father."
He says this about being an entrepreneur: "Be in a position to learn. Have a mindset to keep learning. Find out what you are truly good at, what you bring to the table. Ask yourself if you are open to bringing other people to the table so you can grow and learn together. Always grow and always learn."
Showroom:
Michael Ferrera Custom Clothing
6255 West Sunset Blvd. Suite 1525
LA CA 90028
Website: https://www.michaelferrera.com
Facebook: Michael Ferrera
Instagram: michaelferrera
Twitter: Michael Ferrera