AUTHOR QUENTIN HOLMES AND HIS BOOK: REAL STREET KIDZ
- BY JEAN PERRY
"Ideas are only as good as your execution"
-Quentin Holmes
Author Quinten Holmes with a young fan at Leimert Park Book Fair.
HOW DID YOU COME TO WRITE YOUR BOOK, REAL STREET KIDZ?
Real Street Kidz was a collection of drawings for a line of tee shirts I designed. In college, I saw a friend selling tee shirts. I started to design some. It's a low, cost-to-entry business, so I got into it. I expanded to track jackets. Then I went into partnership with a friend who knew the design end and I moved to the production and sales end. I sold to ten different stores, so I learned about developing a brand.
FROM THAT POINT TO YOUR BOOK, WHAT WAS THE TIMELINE?
A friend, a television writer, introduced me to Show Bible. From that source, I developed an outline, a premise, and episodes for what I hoped would become a TV show. The first year I went to Disney and several production show conferences. They kept telling me 'we love the art.' But when they told me I needed to develop the story, I got frustrated. A year and a half later I knew the characters so well that I decided to write Real Street Kidz.
DID YOU USE YOUR ART FOR THE BOOK?
No, I went online to www.guru.com and to www.massivebrain.com, sites I knew from my days in the fashion business. I found the two artists who did the illustrations for the book in India on the www.guru.com website. These artists had clients all over the globe and they had a style that was in line with what I was doing.
I self-published with Dog Ear Publishing, out of Indianapolis, Indiana. I felt they offered the best package and had the best design quality.
IS WRITING YOUR FULL TIME OCCUPATION?
No. It's a creative pursuit I took up because I saw a need for the types of characters I write about. They are diverse and their home lives mirror a number of family types. For example, one character has a single parent; another is being raised by grandparents.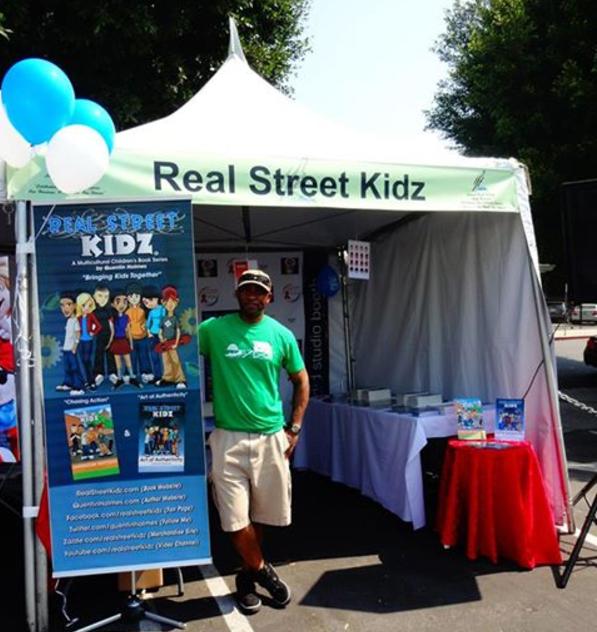 Author Quentin Holmes at Leimert Park Book Fair.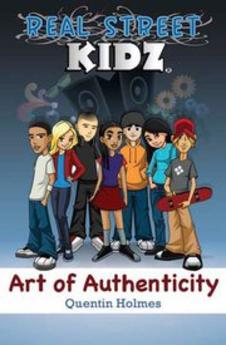 Cover of author Quentin Holmes "Real Street Kidz"
WHAT DO YOU DO FULL TIME?
I work for US Toyota National Headquarters and have been there twelve years.
HOW DOES WORKING AT TOYOTA INFLUENCE YOUR WRITING?
Bigger than that, my work at Toyota influences my life. Especially meaningful to me is the Japanese concept of Kaizen, which means continuous improvement. That and working in teams. As a result of learning these concepts, I am continually asking myself: how can I tell a better story? Write better characters? Offer better resources to teachers? Inspire kids more?
BUT YOU ENJOY WEARING AN ENTREPRENEURIAL HAT THROUGH YOUR CREATIVE WRITING?
I've been entrepreneurial all my life. I grew up in Michigan. I had paper routes and pushed a snowblower along many driveways. Collecting money, connecting with customers, growing my customer base brought about a sense for business.
HOW DID YOUR FAMILY INFLUENCE YOU?
My parents taught me the value of a dollar. They gave me my work ethic. My father worked thirty-seven years for the Boy Scouts of America. He was a Senior Executive at their National Office when he retired. My mom said things like, "I'll give you thirty dollars towards that pair of shoes you want, but you'll have to come up with the rest!"
Where did you go to school?
​I graduated from the University of Michigan, majoring in Communications.
Do you have any advice for aspiring authors?
Keep an idea book. Go back through it every few months. Pursue those you feel passionate about. But I say this about ideas: "Ideas are only as good as your execution."